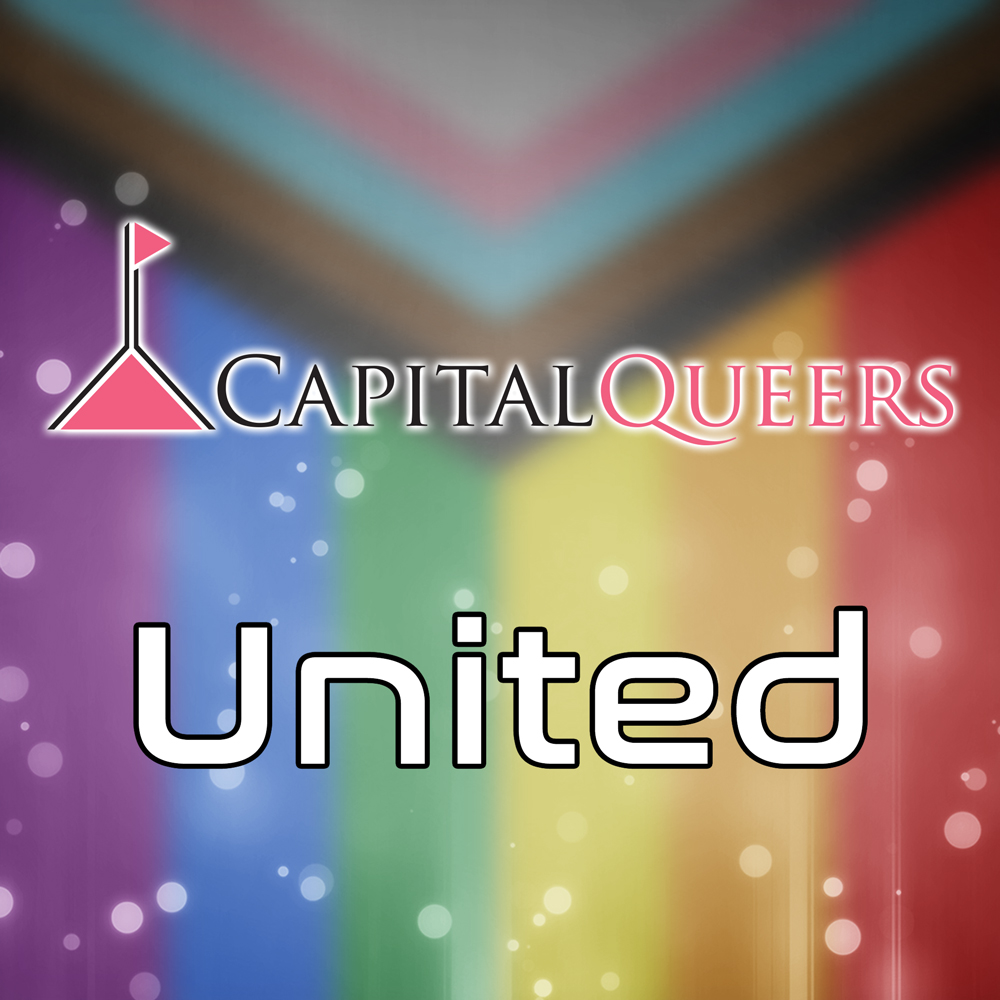 Hello Everyone!
This is your complete source of parade day information, if there are any questions, SMS 0434 576 560, we can't always take calls on parade day, but we'll return your SMS as soon as possible!

Outfits
You will be provided with Gladiator Skirts, Crowns and Shoulder Pads in your assigned colours!
Please feel free to dress to match – but however you feel comfortable!
We have Velcro that will need to be applied on the day to fit to your size.
FORMATION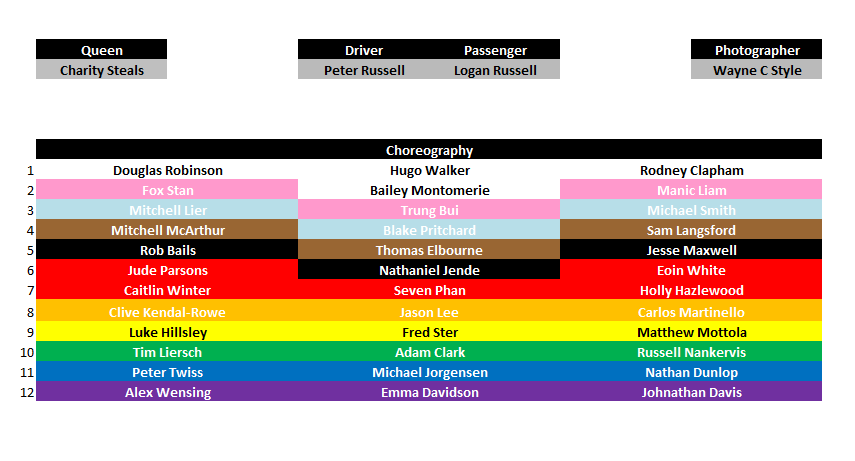 This is our definitive marching formation for the parade unless advised otherwise directly from Capital Queers on parade day.
The truck with our sound is immediately ahead of the group followed by the choreography formation.
Props
All LED sticks will be handed out in the marshalling area on the parade day.
You may keep these if you wish to! Send us an email with your address and we can post you out the remotes that control them after the parade also.
Parade Day
You will have all day to get ready, eat, go to the bathroom, apply glitter, get dressed and dance in your hotel room up until around 5pm.
Your Humanitix (Sent 22nd Feb 2023) QR code will allow you to collect a parade wristband from Mardi Gras at the entrance to the marshalling area.
We will need you between 5:00pm and 6:30pm to collect your participant wristband and entering the marshalling area.
If you have not collected your wristband by 6:30pm you may not be allowed entry.
The gates to the marshalling area close at 7pm SHARP – so we advise you head in immediately after collecting your wristband.
These are collected at the "Participant Entrant Gate" according to the map below.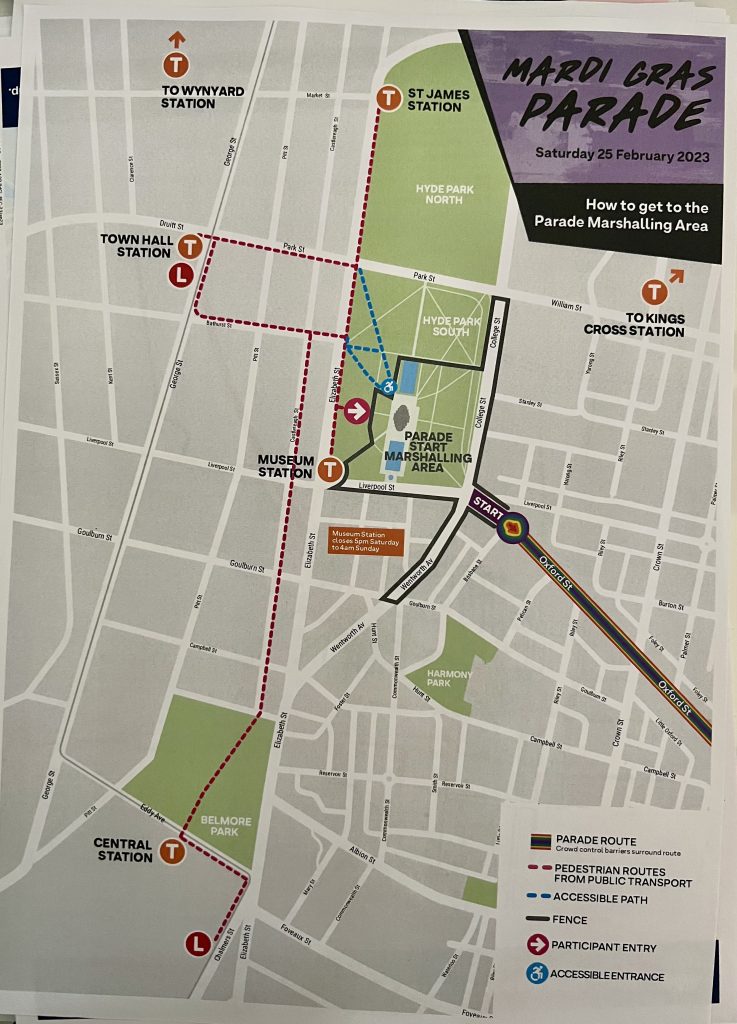 Marshalling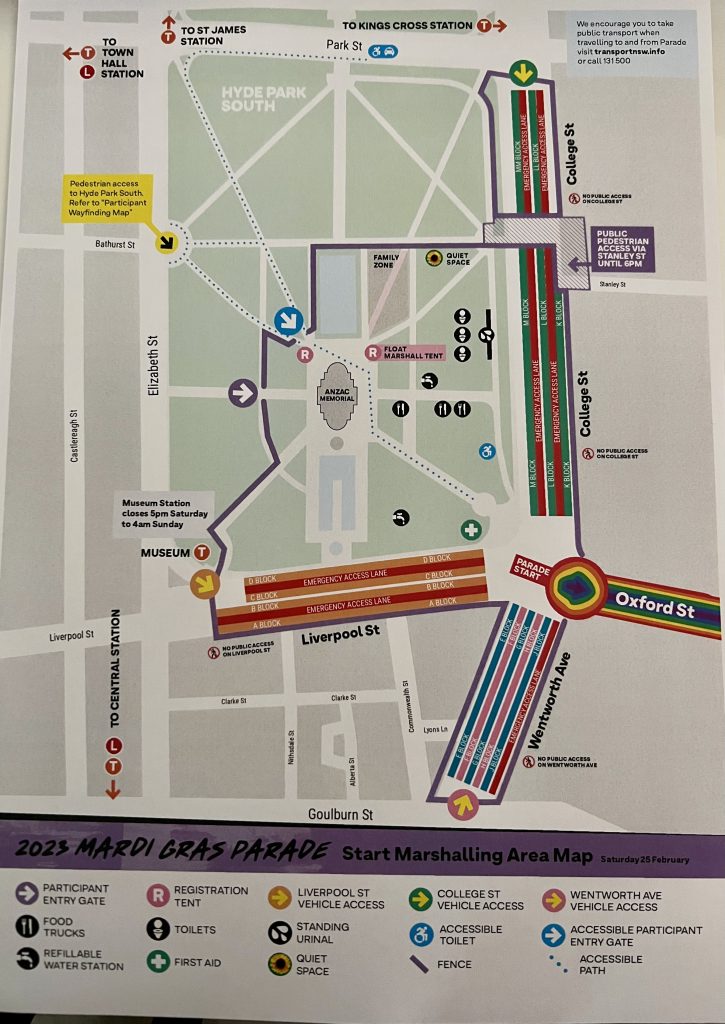 Once inside the marshalling area please remain in the grassed area until AFTER 6:00pm or later, as there may not be access to Parade Vehicles until Mardi Gras staff and volunteers advise.
Follow all instructions from Mardi Gras volunteers and staff at all times and please abide by all the following site entry rules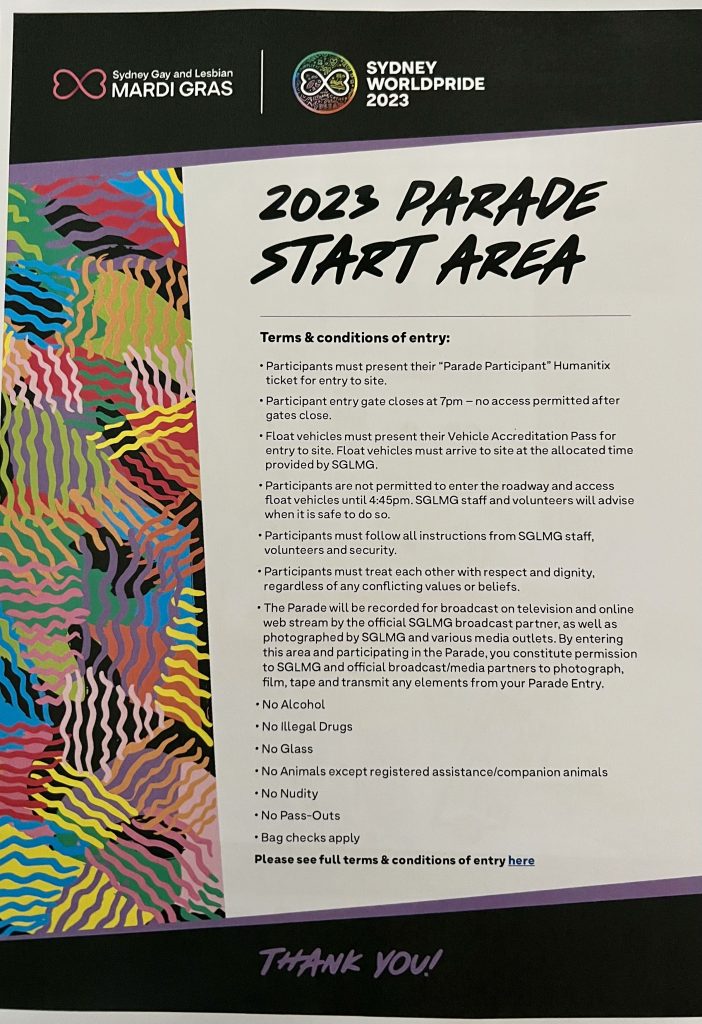 —-
We are located in block J09 located in the J BLOCK on Wentworth Ave as indicated on the map above – if you need directions to our group Mardi Gras volunteers will be able to assist with "J09" not "Capital Queers"
Please be aware that when walking towards Wentworth Ave you may be crossing the live parade route and need to be aware of vehicles and people in motion.
Feel free to explore the other groups and enjoy yourself in the marshalling area after 6:00pm once all the vehicles have entered.
Please swing by our group and say hello while we set up the float, collect your outfits and affix Velcro to size your skirt and for a very cozy and smooshed dance rehearsal as we await our scheduled departure time.
We will have a bottle of water with our vehicle for everyone.

Parade Start
Parade State is from 7:30pm and we will require everyone with our group ready to march at 9:15pm as we expect to be moving by 9:45pm and finishing the parade route by around 10:30pm, in this time before start we'll also take our GROUP PHOTO and run through the choreography if there is enough space.
We are group 150 out of 230!
Be aware that we may move forwards up Wentworth Ave from J Block after the parade starts but before it is our turn in the parade, if we are not in our original position after parade start, head up Wentworth Ave towards Oxford St until you find us.
Bags
We are NOT able to take anyone's bags or personal items for the length of the parade, if you can't keep it on your person, do not bring it.
Anything left in the back of the truck is not able to be returned to you at the end of the parade and things have been lost before.
Bring a bumbag or share a backpack where possible!

End Area
Participants and vehicles will continue along Anzac Parade after Flinders St with parade view until passing under the Albert 'Tibby' Cotter Bridge (pictured below) before being separated from the vehicle on the remaining stretch of Anzac Parade after the overhead bridge.
Only individuals already identified are to come with the vehicle into the de-rig zone, everyone else is to separate as instructed by Mardi Gras staff and volunteers.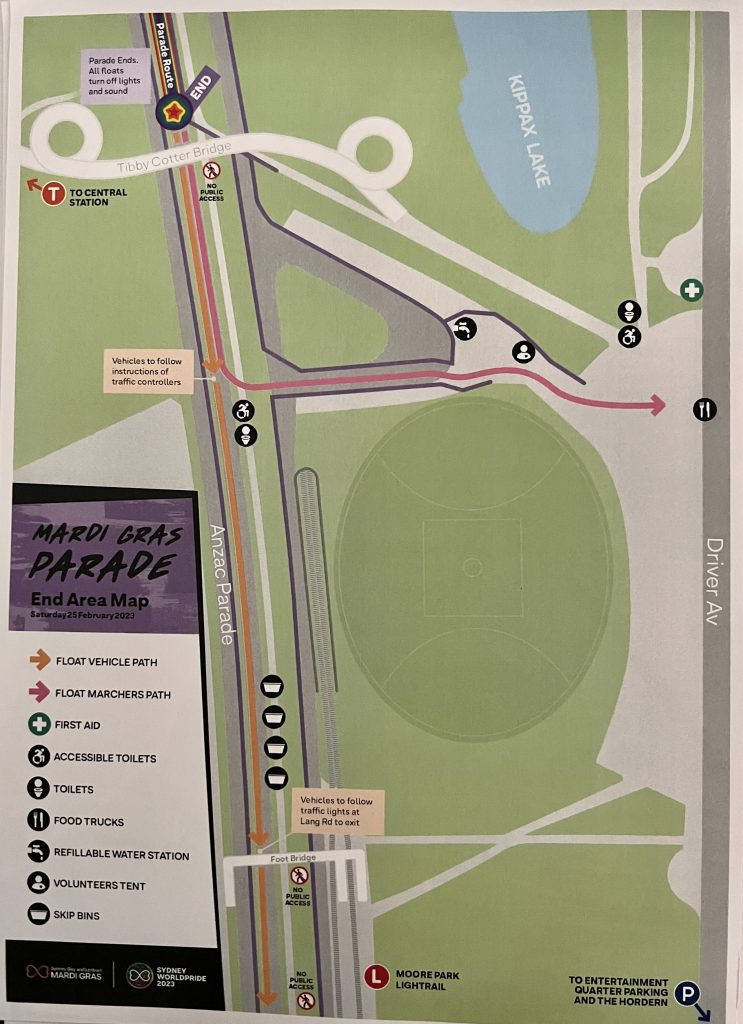 Choreography and Movement
Always be walking forwards unless the parade has stalled.
BE IN FORMATION and GIVE IT YOUR ALL!
Our group shines most when we're in sync and celebrating and dancing with each other!
PARADE!
Once we exit the marshalling area onto Oxford St we will start the choreography with every ounce of enthusiasm we have!
There are additional paid viewing areas at the end of the parade this year – so don't forget to give a show the whole way to the end!
Remember to pace yourself – but this is your moment, 15,000 parade participants and over 250,000 people lined up in the streets cheering us on, give them a show, march with pride and enjoy the 45th Sydney Gay and Lesbian Mardi Gras and Sydney World Pride 2023.
Thank You
All our love and a very Happy Mardi Gras!
As always we thank all of you for another fantastic year and it wouldn't happen without each and every person.
Capital Queers